Elvira - a 1956 Safari in Australia
A "Gasser Tribute" in the making
by David Turney, owner
Updated July 23, 2008

I bought Elvira in I think 99, in Melbourne, the capital city of the state of Victoria here in Australia, from the importer (a low volume agent who was bringing in mid 50's through to 60's American jewels at the time. He's since moved onto Europeans and brings in some quite rare old Ferraris & Lamborghinis, etc.) I spotted her in one of the classic car classifieds (bit like your Hemmings but much smaller) as I was looking to find a home for the 389 I'd gotten for my 66 Goat (that I'd sold about 7 years earlier; she had a 403 Oldsmobile from somewhere in its life and the 389 was to bring her back to where she belonged).




Having owned a few Pontiacs before (a 59 4-door hardtop, the Goat and a half share in a 63 Grand Prix with a good friend), I was definitely a fan, so the Safari caught my eye purely because I was looking for a 50's Pontiac for the motor to go into. At the time all I knew was that they were Pontiac's Nomad. She was advertised as running but rough, with perfect stainless. Since Melbourne is a good 10-hours south of Sydney I asked another good friend and fellow car nut to go take a look. I knew I was on a winner when he called and said "if you don't buy it, I will". So I did.





She's a dry Californian (in Pasadena) that was last registered - far as could be told - in the mid 70's. She was rough; interior was completely shot but the body was just fine really (couple of dents here and there) and Californian sun burn on the paint (not the original paint either). He was right about the stainless. Perfect. I considered cleaning her up, doing a mid-range interior job and putting her on the road. That all changed when I started getting to thinking about what I wanted to do. Here I had a pretty good, relatively unmolested blank canvas. That's what got the ball rolling on turning her into a gasser tribute.
Here she is shortly after arrival. Following photos tell the story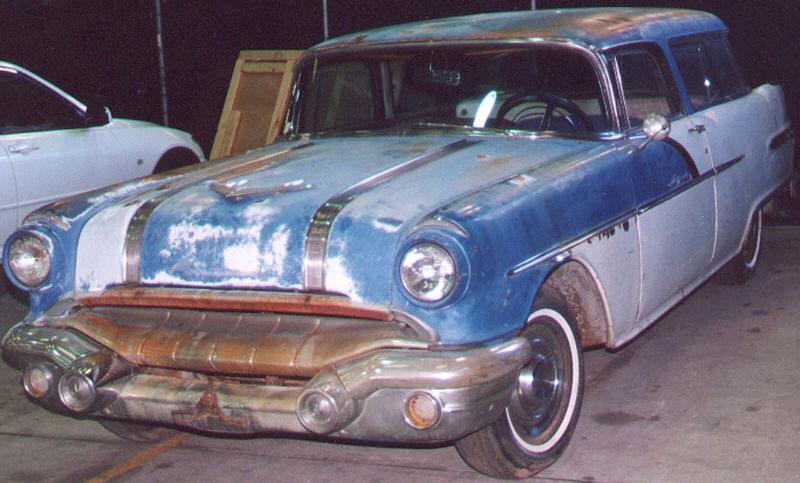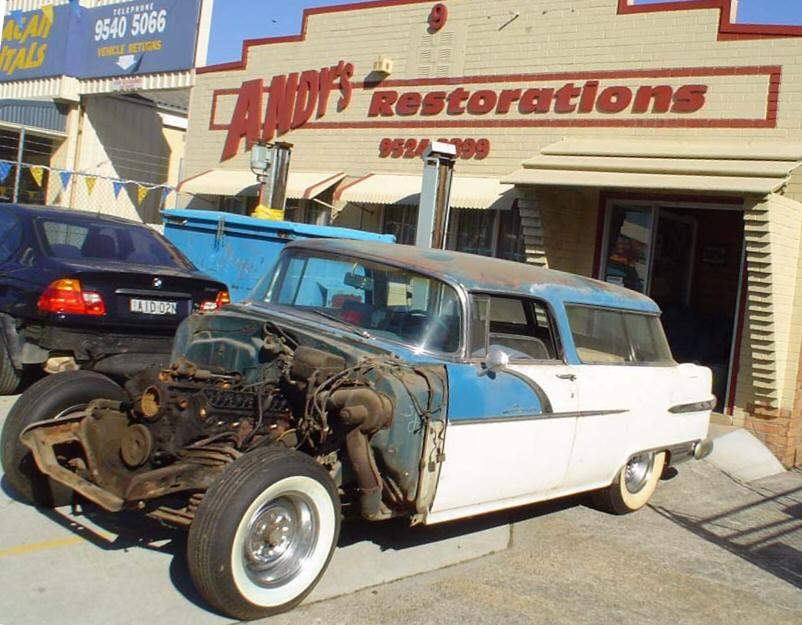 600-700hp at the flywheel should be adequate for haulin' the groceries. The engine is a 1966 Pontiac 389 cid engine built by a real good mate here who's made a name building ski race boat motors (mostly small Chevs) using components all specc'd and sold to me by Bruce Fulper at Rock'n'Roll Engineering in Glendale CA.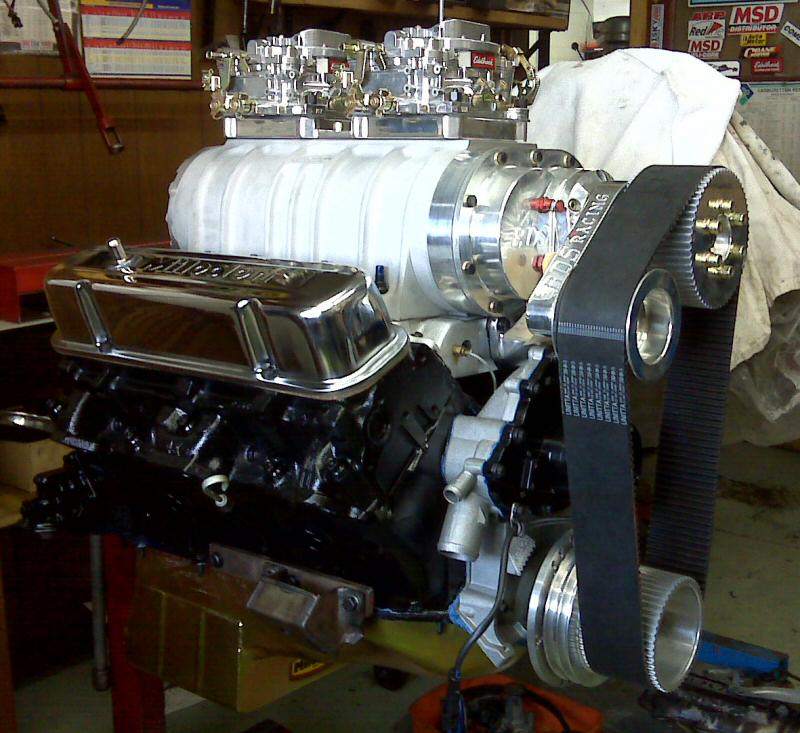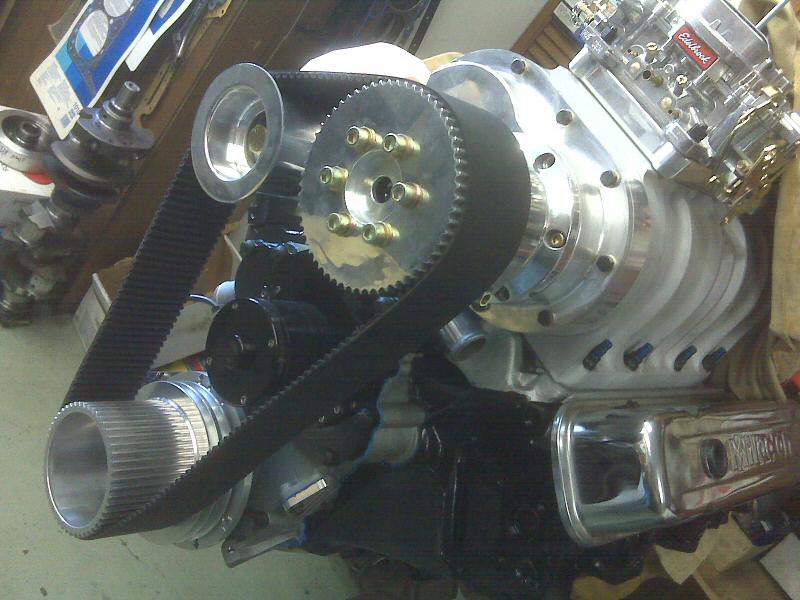 On my car, you'll notice that the engine swap is achieved with a chassis "tube" between the two frame rails (that kind of gives away my chassis builder as a hot rod guy). Leading on up to this, I'd seen some photos of tri fives with later motors in them, but do you think I could find any info or pics to show how it wasachieved? No way. Not that I doubted my chassis guy, though as I said it's always good to have a visual reference. Anyway, the chassis tube solution was what we worked out. Good for strength and - over here at least - keeps the engineer happy who has to sign-off on roadworthiness.
Why I chose this front end configuration.
Putting in leaf springs is a step back in technology; my hot rod guy (Andy from Andy's Restorations) at first thought I was nuts, he suggested stepping up the technology to a newer independent set-up. But as well as being a step back in technology, it's a step back in time and from that point of view, for me at least, it's a no-brainer. I'm building Elvira to capture the essence of 50's and 60's culture, both on and off the street. Early 60's, these kinds of gassers were big. Big motors and set up to go one way; straight ahead and in a hurry. Elvira is my tribute. My expression of that and a reflection of how I feel about the era and exist as a retro-greezer fool, maybe born in the wrong time but having fun anyways. Drivability? Well this set-up is every bit as capable of going around corners and handling at respectable (that is, road) speeds, so that isn't even an issue. I wasn't looking for a rail-rider and (obviously) wasn't looking to 'improve' the chassis and handling dynamics. Those parts in there (the axle, springs, disc brakes) are all brand new parts from Speedway Motors too. It's an awesome kit. Great quality and fit.
Taking an idea from those chassis stubs though (I've seen articles on those), one idea for my front end was to replace the whole frame section with a new fabrication (rails and all) and then grafting on the spring hangers, etc. I wasn't too keen on that though 'cause I was afraid that the modified look would stick out too far, so my wizard hot rod guy managed to fit the new parts into the original frame rails, which definitely adds to the keeping the faith and period. You'll see that, apart from the extra front x-member and the motor tube, from any angle it's a real nice job and still mostly "stock" (having used the existing frame rails and boxing them all in, and even the radiator support). For engineering sign-off as well down under, modifications like this always come under the greatest scrutiny. Modifications that add-to - rather than replace - the fundamental, original integrity of the car are much more likely to be passed. So from that point of view as well, keeping the frame intact, and the original steering parts and geometry (all the way up the column) there's a major tick in the box.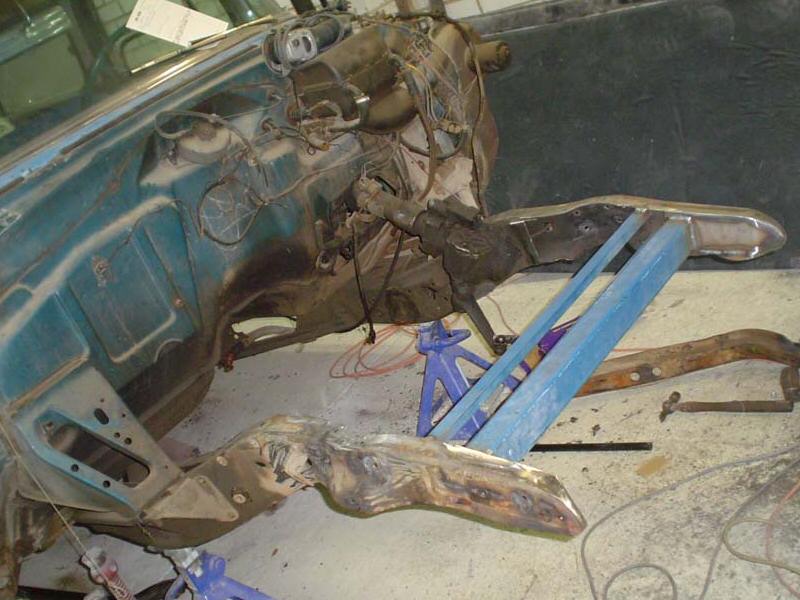 Note master cylinder moved to firewall where the defroster used to be. It doesn't get too cold where Elvira lives.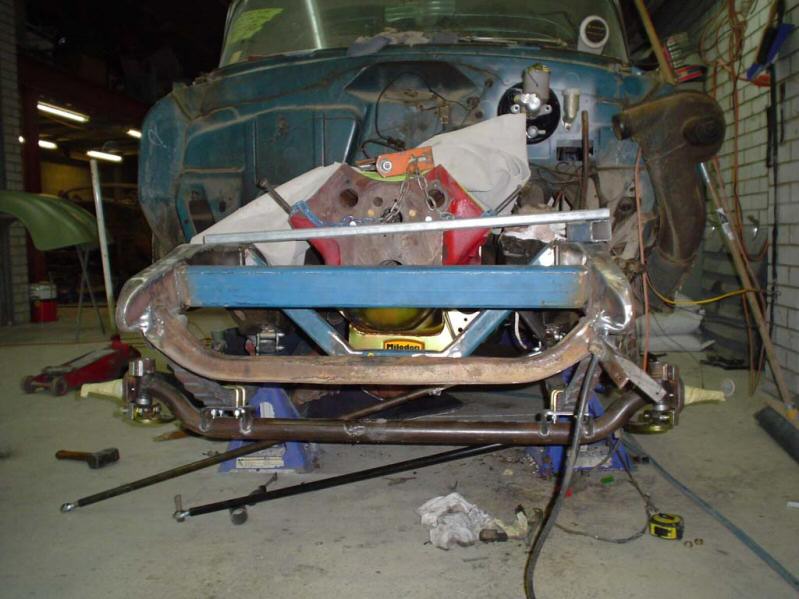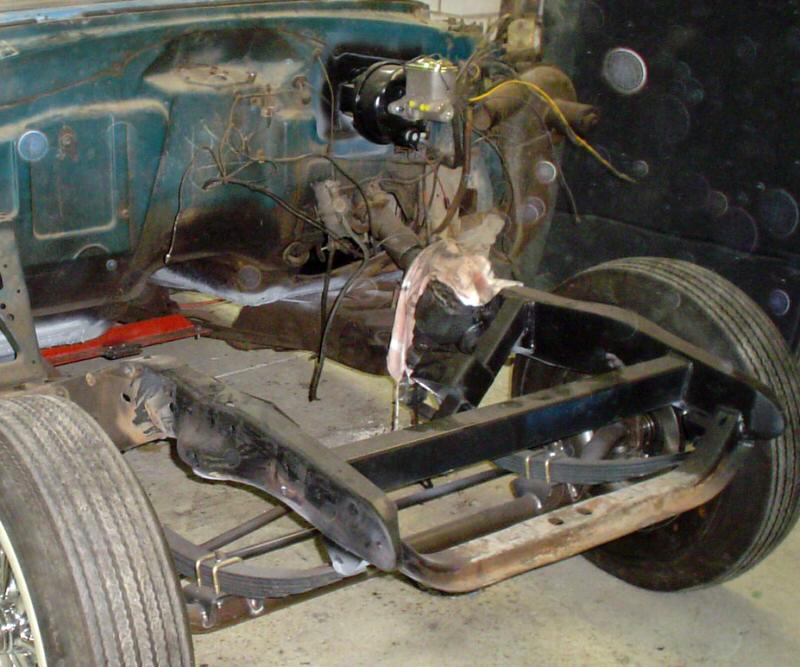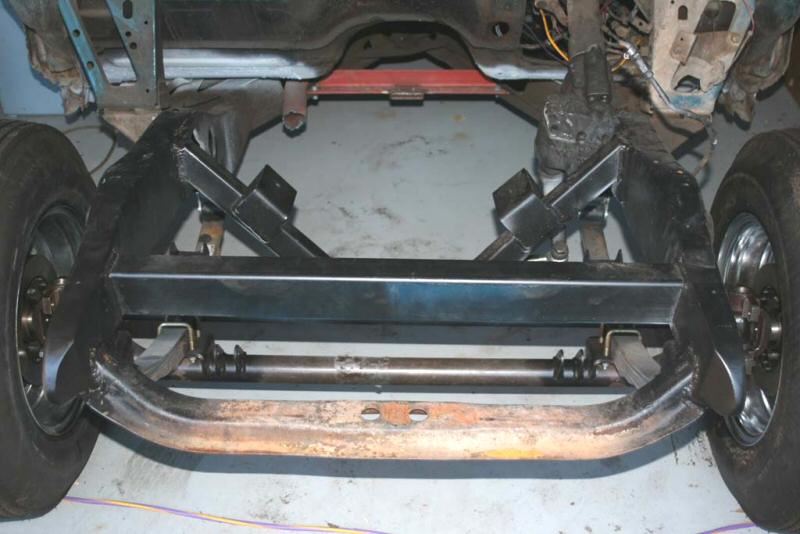 The transmission is another throwback. It's a gen-u-ine Muncie M22 Rockcrusher that I rebuilt with new everything. Got those 30 degree gears for a nice whine. Elvira will definitely make some mechanical noise; there's a solid roller lifter cam, the blower, straight cut timing gears (quieter ones, thankfully) and the Rockcrusher. You'll definitely know that she's running! I bought this trans again to put in the GTO. I felt a little bad, because the guy I bought it from was selling it as an Aussie 4-speed (that's a GM Australia variant, similar to Muncie 4-speeds but fitted locally). Was a time where my numbers knowledge came in handy. I knew what it was and paid $500 for it (with a little haggling, just so that suspicion wasn't raised). Came with a new Hurst v-gate shifter too, so that's all ready for Elvira.
That's all for now, stay tuned...